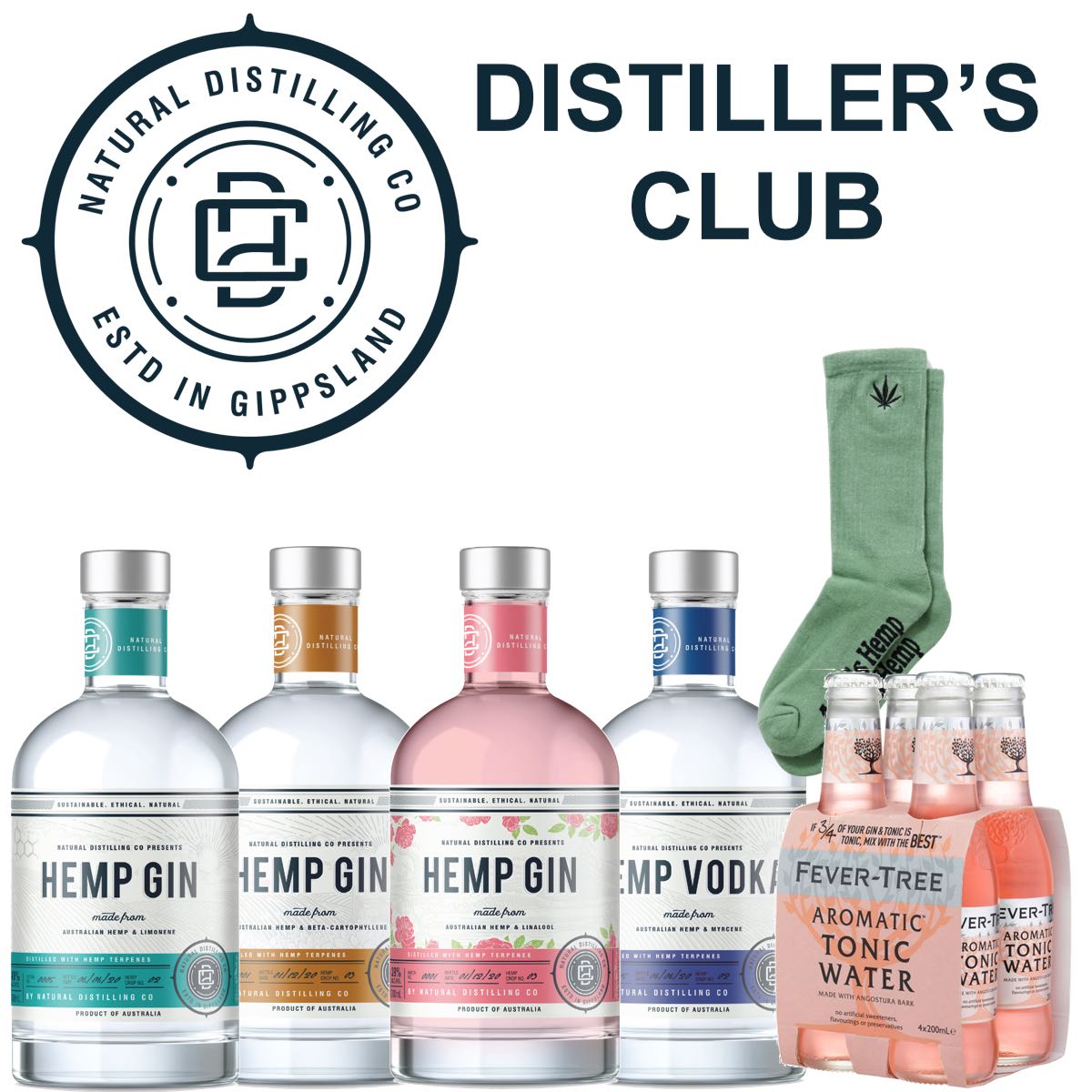 Note: For monthly plans, this membership requires a 12-month commitment upon sign-up.
The ultimate deal ­– best value for money PLUS your opportunity to Come with us on a journey of discovery, innovation and good times. Get involved with the Natural Distilling Co on a 1-to-1 level!

Limited to 150 Members only, each year a few spots open up when previous members are unable to continue in their capacity as Founders Club members. Don't miss out on your opportunity to be involved with a 100% Aussie business and receive these great benefits!
Any 2 bottles of your choice delivered to your doorstep every three months, including any future releases (8 bottles total each year, RRP $760)
Prices that are almost on par with our wholesale rates, meaning Gin & Vodka year-round for less than $10 a week!
2022 Founders Club Merchandise Pack (RRP $165) including hat and t-shirt (green print on white) plus sweater (green print on grey) and hemp socks.
Exclusive first access to small batch releases such as our legendary Ltd Ed Barrel Aged Spirits.
Exclusive invites to Founders Club nights out with food and drinks included at no charge
Exclusive experiences and offers such as cocktail masterclasses, half-price deals for Gippsland hotels and accommodation, barley harvest barley on the farm and more
Exclusive perks such as surprise inclusions of premium cocktail mixers and paired tonics
10% discount on additional store purchases for Founders Club Members
Shipping included
After you sign up you'll be invited to choose your first two bottles for delivery from our full lineup – you'll get access to a members area where you just click to choose. Every three months we'll be in touch to see if you'd like the same again or prefer to try something new, and before your annual membership is up we'll send you a reminder to check whether you want to stay onboard or offer your spot up to someone new.
Customize your Founders Club Membership with these options after checkout:
Founders Club Merch Preference: Medium, Large, X-Large
Gin Selection: Limonene Hemp Gin, Linalool Hemp Gin, Myrcene Hemp Vodka, Hemp Gin with Beta-C, Barrel Aged Limonene Gin, Barrel Aged BC Gin
You can change your options at any time. 
Please note that additional offers/codes (e.g. our Newsletter signup discount) do not apply to subscription-based products such as Founders Club. For monthly payment plans, this membership requires a 12-month commitment upon sign-up.